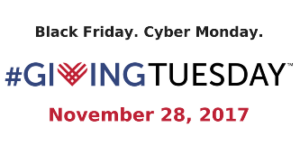 #GivingTuesday is finally here, and Human Para has a great way to maximize your donation dollars to fund MAP research and make a difference in the lives of Crohn's patients and people with MAP-driven diseases around the world. If you're new to the #GivingTuesday movement, you may want to read our introductory post first.
On November 28th, starting at 8:00 a.m. EST, Facebook and the Bill & Melinda Gates Foundation will match funds donated to 501(c)(3) charities up to $50,000 per nonprofit, until the $2 million in matching funds run out. Facebook is also waiving the fees for all donations made on #GivingTuesday to nonprofits through their site.
How will Human Para use #GivingTuesday Donations?
Human Para's #GivingTuesday campaign is hoping to raise $40,000 to fully fund our initial Joint Testing Study. 100% of donations on #GivingTuesday will go directly to MAP research! If we raise the full amount needed for our initial study, we have more research projects waiting in the wings.
The Joint Testing Study is a worldwide collaboration of 10 MAP researchers from 5 countries. The goal is to produce the first validated human MAP diagnostic test. If successful, this test can be used to conduct human MAP research all over the world. The study will also determine whether Crohn's disease patients have a higher rate of MAP infection than those without Crohn's.
The study will collect 210 blood samples, 60 from adult Crohn's disease patients and 150 adult controls. MAP cultures and antibody studies will be performed in the laboratories of John Aitken (New Zealand), Dr. Timothy Bull (England), Dr. Irene Grant (Northern Ireland), Dr. Horacio Bach (Canada), Dr. Peilin Zhang (United States) and Dr. Raghava Potula (United States, Temple University), per the methods detailed in the full proposal.
The total approximate amount to complete the study is $40,000, which amount will pay for the out of pocket costs of each laboratory and sample transportation costs. The study investigators have not requested compensation for their time or expertise, and no overhead institutional costs have been sought.
For $190/sample, 6 different labs will perform MAP testing by using culture methods, ELISA, PCR and PMS-phage assay.
How Can I Maximize my Donation?
Make your Donation as close to 8:00 a.m. Eastern Standard time on November 28, 2017 as possible! The Gates Foundation and Facebook will match until their allotted $2 million is gone. It will go quickly as every nonprofit is going to be working for this!
Use the Donate button directly on the Human Para Facebook page to make your contribution. Only donations made through this link (or a Facebook fundraiser campaign) will be matched. Plus, all fees are waived for the day, so Human Para will receive 100% of your donation! Also, your gift is tax deductible in the United States and your receipt will be delivered right through Facebook! Any issues, email our Human Para team and we will sort it out.
Share us, Like us, Tweet us! Spread the word through social media using @HumanPara, #GivingTuesday and #MAP2CURE.
Above all, THANK YOU! Thank you for your generosity and support. Thank you for moving MAP science forward for millions of people who suffer from Crohn's and other MAP-driven diseases. Thank you for helping to change the world and the way we deal with MAP-driven diseases.