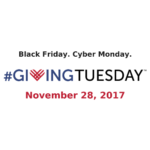 We all know about Black Friday and Cyber Monday, but what is #GivingTuesday? In short – a great opportunity to fund some MAP research this holiday season!
#GivingTuesday is a global social media giving movement built by individuals and communities in the United States and in countries around the world. Celebrated on the Tuesday following Thanksgiving (in the U.S.) and the widely recognized shopping events Black Friday and Cyber Monday, #GivingTuesday kicks off the charitable season, when many focus on their holiday and end-of-year giving. On #GivingTuesday, millions of people come together to support and champion the causes they believe in by donating and fundraising on their behalf.
This year, #GivingTuesday falls on November 28th. In celebration, Facebook and the Bill & Melinda Gates Foundation are partnering once again on a national campaign to support nonprofits. These organizations have pledged to match up to $2 million of funds raised on Facebook for US nonprofits. Facebook is also waiving all fees for donations made to nonprofits on Facebook this #GivingTuesday.
How to Maximize Your Donation with Matching Funds
Donations to nonprofits made through Facebook's charitable giving tools on November 28th will be matched up to $50,000 per nonprofit or $1,000 per fundraiser or donate button, until the $2 million in matching funds run out. The match will begin at 8AM EST (5AM PST).
Facebook is also waiving processing fees for every donation made to nonprofits on #GivingTuesday. Fees will be waived for all of #GivingTuesday, regardless of when the match runs out.
Get Involved
Human Para's #GivingTuesday campaign is hoping to raise $40,000 to fully fund our initial Joint Testing Study. All funds raised on #GivingTuesday will go directly to MAP research! If we raise the full amount needed for our initial study, we have more research projects waiting in the wings.
Here's how you can get involved:
Like our Facebook Page.
Share our #GivingTuesday post by using the hashtags #GivingTuesday and #MAP2CURE.
Add a #GivingTuesday frame to your Facebook photo.
Consider making a donation through our Facebook page on November 28th. To have your donation matched, you must donate through our Facebook page campaign (which will be posted shortly) as close to 8:00 a.m. Eastern standard time as possible.
Don't have the ability to donate at this time – no problem! We understand how devastating immune diseases can be, both physically AND financially, to patients and their families. We are happy to provide the opportunity to fund MAP research for those who are able to use their resources in this way.